I know that everyone has been anxiously waiting for news directly from Germany.  With all of my heart I am truly sorry.  Day one was really exhausting and then the next couple days we had a tough time getting set up with computers, internet, ect. For example, today we have spent hours writing and trying to insert photos and then sent it and lost it!!!! Thankfully Russ was able to keep some information coming to you.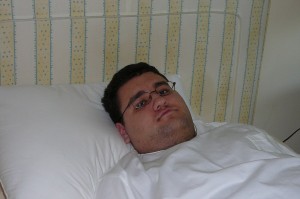 On Monday morning, Melissa, our German friend, and I met with Dr. Rohr to talk about all the risks and medical information prior to starting the ketamine coma the following day.  Just so that you get to know who we are talking about, I am just going to introduce who Melissa and our German friend are in this blog.  Melissa is Matthew's ketamine coma partner (we now call then the M&M team because they are so supportive of each other).  Matthew had never actually spoken to anyone who suffered from RSD before, who could truly understand the suffering he endures daily.  I had the privilege of talking to Melissa prior to coming to Germany.  Since she was coming alone, we made plans to stay at the same hotel for obvious reasons.  She is an incredible mother who has two beautiful daughters.  There was an instant bond between all of us, as for both of us, our children are first in our lives.  We have been so blessed to have been placed in the hands of our new Germany friend.  He is truly an incredibly humble, compassionate,  and intelligent person who gives with all of his heart and expects absolutely nothing in return.  His vast knowledge of the world… it leaves you in awe.  He has for Melissa and ourselves made all arrangements on one to two days notice, and has covered every need that you could imagine with a smile and always says "What's next?".  I consider myself to be a strong person, a survivor, and one who will never give up until I get what I need for my children; but I have to say that I guess God knew that I needed big help here because this was one mountain that I could never have climbed alone.  Our German friend is now a member of our family and for the rest of my life I will always be indebted to him because he has taken care of all of us as if we were his own. 
After meeting with Dr. Rohr on Monday, I left with a very strong feeling that Matthew was being placed in the hands of a doctor who is the best of the best.  This gave me more comfort due to the severe progression of Matt's RSD and all that it has done to the functioning of his body, which makes his risks higher.  When coming back to the hotel room and I went over everything that I was told by Dr. Rohr with Matthew, including that the risks of this procedure were higher than anticipated for him, Matthew still strongly had no second thoughts about it:  "There are two things Ma… I totally feel I am in God's hands, as he is the only one who truly knows the extent of my daily suffering… and second, I just could not continue living as a prisoner trapped in my own body.  I am at the point that I have endured all I can humanly possibly take."
So the evening before the procedure, Melissa came to our room and we spent the evening together.  It was good for all of us.  Although they both strongly wanted to go forward without question, the anxiety was high and the waiting was long.  We had a treat (that we have never done for ourselves in all the traveling and treatments Matthew has had):  I called for room service and we all had ice cream desserts (ice cream is one of Matthew's favorites and it goes down easy for him).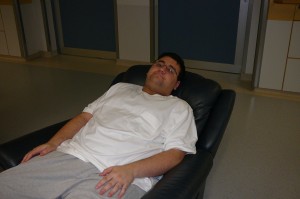 Tuesday morning, the countdown was on and the day had finally come.  And with the grace of God, for both Matthew and Melissa, it will be the beginning of a whole new world that they are both so deserving of.  We arrived at the hospital at 11 a.m. and of course our German friend came with us (as he has done for every time we have had to go anywhere).  He organized transportation for Matthew.  He is truly amazing.  Dr. Rohr met with us for a few minutes and spoke to Matthew.  Melissa offered to let Matthew go first.  She said "I am a mother and I can see how much he is suffering."  She truly has a golden heart.  Matthew was taken in at 11:35 a.m. and sharing one last quick moment of my love, encouragement, and support for him, I told him to believe that his miracle is waiting to happen and that God, the Blessed Mother, the Holy Spirit, his Guardian Angel, Auntie Theresa, ect., … with that much power in Heaven, he is covered. Matthew is so strong and brave, he is my hero!!!  And we all pray for the same miracle for Melissa.  And I ask you that when you pray for Matthew to also pray for Melissa, as the next seven days are the most critical.  Dr. Rohr came back out approximately 1:30pm and personally escorted Melissa (at this time Matthew was already in his coma).  He was very kind and compassionate with her.  Daniel and I waited 5 hours at the hospital to have a chance to go in and see Matthew and Melissa (as they share the same room).  I am no stranger to seeing intensive care units, but this room was beyond impressive.  The technology, equipment, and set up of the room was absolutely state of the art… in the instant of pushing a button, medications are all pre-loaded and ready to go in an instant.  I am a worrier, but felt that God forbid, in case of an emergency, that they have him covered.  The staffing is always there.  I had personally tried to prepare myself as I have seen through my many years of working at a hospital, patients in comas, on respirators, in intensive care… but when its your own, its a totally different story.  But upon approaching Matthew's bed, despite the countless tubes, machines, equipment, ect. running, for the first time in over five years, Matthew had an incredibly peaceful and serene look on his face, as if his body was pain free.  I was absolutely taken back.  God works in mysterious ways… even at this time, he was not only watching out for Matthew, but sending me comfort also. 
Although leaving at the end of visiting hours was hard, I felt that he and Melissa were in the best hands that I could possibly hope for. 
I am with all my heart forever grateful to the endless out-pouring of love, prayers, and support that has been given to Matthew and all of us.  Without all of you Matthew would never have had this opportunity at this time and his health was continuing to head down hill rapidly with no turning back.  You did for Matthew what I as his Mother could not do.  You have responded so quickly and because of that, Matthew is in Germany and has already begun his treatment in hopes of ending this nightmare that he lives daily.  The golden hearts that have reached out to help Matthew as if he were their own start from our incredible, caring, supportive, stopped at nothing to help Matthew, Town of North Providence, under the leadership of Mayor Lombardi, and has extended to as far as donations and prayers from Australia, Ireland, the Netherlands, Canada, Thailand, Texas, California, Illinois, Singapore, and so many other places.  I am left speechless by the continuous love and support for Matthew at this crossroad in his life.
Thank you for all of the emails and support that have been coming in.  After visiting Matthew in the hospital, it replenishes great strength to come back to the hotel and be blessed with your words of encouragement.  If anyone has any thoughts that they wanted to share privately, you can email me at:  Nancy@SetMattFreeOfRSD.com.
Love to all and forever grateful!  God Bless You!
-Nancy