Hello To All,
This is the view of Matthew's room that we told you about yesterday.  This picture was taken yesterday just after an hour of heavy rain.  We are so high up that you can see all the tops of the trees.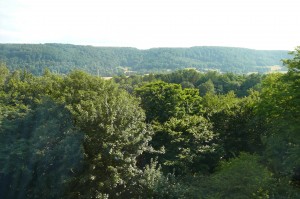 We visited with Matthew today and met with Dr. Rohr, who said that today he increased the amount of ketamine that Matthew is receiving and that his body seems to be tolerating the new level of ketamine.  His high enzymes that were causing a problem initially are continuing to go down with the grace of God.  So at this time that no longer seems to be an issue.  Matthew is retaining some fluid, but this is not unusual.  Dr. Rohr explained that this happens during a ketamine coma at times and at this point we need to just take one day at a time and see what Matthew's body can tolerate, and proceed accordingly.  Dr. Rohr can well understand the great need for this ketamine to continue running, but as he has said from day one, that his first and top priority is to keep Matthew safe.  Dr. Rohr is not only a brilliant physician, but he is extremely patient, kind, and understanding to spend time answering my many questions (and for those of you who know me, when it comes to my sons, I can never ask too many questions).  Each day seems like weeks to watch him lay in his coma.
Our German friend continues to be a tower of strength to us each day.  He spent a great deal of time trying to help us with our computer problems today and then showed us around to help us find some restaurants that we can make out what the food is on the menu.  He has been a saving grace in so many ways.  I ask each and everyone of you reading this, that the next time you pass by a person who does not speak your language, to please take the time to try to help them.  I am 56 yrs old and I have never felt so isolated due to the language barrier.  You truly have to walk in these shoes to understand what I mean.
After leaving Matthew, we went to mass at the basilica.  It was so beautiful and simply breath-taking.  It was a source of great after an incredibly emotionally draining week.  Although I only understood two or three words out of the entire mass, it was a beautiful mass.  Before mass, I lit a candle for Matthew and one for Melissa, that God would keep them save through their comas and wake up pain free; one for our German friend in thanksgiving for all that he has done for us; and one that God will bless each and every one of you who has reached out to Matthew with your love, prayers, and support as if he were your own.
We thought that you might enjoy some pictures of the Basilika.  So until tomorrow, may God Bless each and every one and keep us all healthy, safe, and together, because our extended family has grown by the thousands.  I love and miss you all so very much!  God Bless You All Always!
Forever Grateful,
Love,
Nancy