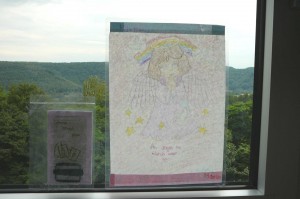 Hello To All,
This beautiful guardian angel drawing from a beautiful little angel herself, has been in Matthew's window from Day 1.  Maren, every time I enter Matthew's room, your drawing warms my heart and I know that God smiles down on you with the love that this was made with to keep Matthew company.
The power of prayers from a distance has lifted Matthew out of unstable waters again.  All of you, who continue to be so faithful to Matthew, and have prayed so hard for him, God has opened another door.  Today, Matthew seemed to be better, not struggling so hard.  The antibiotics for his pneumonia are continuing.  His blood pressure is a little better and he appears to be more comfortable.  The other complications that Matthew is enduring, at this time, are not as critical as the above ones.  The good news is that the ketamine is still running and if things continue to stay stable it will run that way through the night. Matthew will start tomorrow to be slowly weaned off the ketamine over the next few days.
Again, the power of all of your prayers are sustaining Matthew. You all have been so loyal to Matthew and so dedicated to seeing him all the way through to the end, that with the grace of God a whole new life will begin for him. Matthew always felt there was no need to burden others with his suffering… that God truly knows what he endures and that's all that matters. We continue to beg God to bestow upon Matthew a miracle. With all of our hearts we believe in them. I love and miss all of you so very much!!!
Please continue to pray for Matthew and Melissa!
God Bless you all always and keep you safe!!!
Forever Grateful,
Love,
Nancy