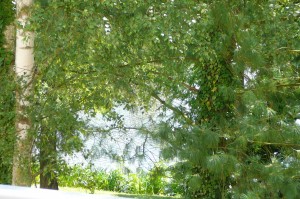 Hallo to all, (German for hello),
When I woke up this morning, everything in the hotel was so quiet that you could hear a pin drop, and it was 9 a.m. The sun was so bright. I opened only part of the curtain as Daniel was catching up on some well needed sleep. As I had mentioned before, or for those who just started reading this blog, our room over looks the beautiful German-French Gardens. We have an incredible view of some of God's many blessings. The birds are entertaining, you can hear the water running from the brook, and see so many different tall trees.
For the first time in a very, very long time I felt rested; regaining emotional strength. For the first in many years I felt the most incredible sense of peace that Matthew will be OK! I sat on the love seat facing this beautiful sunny view and originally sat to say a rosary, but instead picked up a book that was given to Matthew by Ann, a very dear friend. The name of the book is The Tree That Survived The Winter by Mary Fahy. After reading the book and looking out at the peaceful picture of the sun shinning on all the trees and their beautiful branches swaying with the morning breeze, I sat and reflected on Matthew… I don't know, none of us know what the days ahead will bring for Matthew after he wakes out of the coma… only God does! There have been very obvious signs from the beginning of this journey with Matthew that God is with us. (Maybe problems happen because God wants to hear from us that we still need him…) In some of my prayers I tell God I'm not good at reading in between the lines, put it clear on the wall for me. From day one when Dr. Schwartzman called and told us that Matthew was going to Germany within a month, to when we were flying over the Atlantic Ocean for over 3 hours and the most beautiful rainbow shined through our window and sat for the longest time on the wall in front of us, to the priest who said mass at the Basilica on Sunday, who was a twin of Father who came to give Matthew The Sacraments of The Sick before we left for Germany!!! Coincidence…I don't believe so!
Matthew went into this coma with an over-whelming, humble, heart full of gratitude and love to all who made this moment possible for him. He had some anxiety of course, but so trusting and faithful to God, knowing that each day he would be in God's hands! Matthew has always been so very faithful to God and Our Blessed Mother, ever since his First Communion when we started to say the rosary all together. Through the past five years of the most incredible suffering, and when treatment after treatment failed to give any relief (treatments that most times made the RSD worse), Matthew still trusted that God was with him, that there was a reason for his suffering, and would never question God. Why Me? (Not that God gave this to Matthew. It was absolutely a sloppy human error, but that God will bless him with the strength to get through each day until he opens a door for Matthew). With all my heart, and the hearts of all who worked so hard without stopping and all those who donated to make this happen for Matthew, believe that this will be what Matthew has waited many horrific years for.
Matthew is Faithful and so very loyal. Please God, reward him and Bless Matthew with a miracle!!
I have learned so very much from my sons, Matthew and Daniel. They have enriched my life in ways no words can adequately express. I have been blessed!
Now, onto the most important reason for this blog:
In visiting with Matthew today, we found him to be about the same as yesterday. The doctors have started to reduce his ketamine and explained that they will do this very slowly over course of a few days, so as not to cause any new complications and also help ease his hallucinations once he is weaned off the ketamine (everyone has hallucinations caused by withdrawal from ketamine). He still has the pneumonia and the antibiotics are still running, but thank God the pneumonia has not gotten worse. He has a fever higher than yesterday, but his blood pressure is much better. His overall condition is considered stable, but they continue to monitor him very closely. Matthew has come a long way and continues to fight the long battle. He is hanging tough.
Upon leaving Matthew and Melissa's room tonight, Melissa motioned gently with her little hand for me to come over (Melissa is completely off the ketamine and off the respirator). She spoke very softly, and her first words to me were: "How is Matthew?" May God continue to Bless her. I told her that Matthew is fine and that I admire her courage and perseverance. I told her that she did a great job and to try to rest and go back to sleep and that everyone is still praying hard for her. She truly has heart of gold.
Everyone is entitled to a brief blog tomorrow, and Daniel will make sure of that as he does all of my typing for me.
I ask everyone to continue praying for Matthew and Melissa, as Matthew still has a long way to go.
God Bless You All Always!
Forever Grateful,
Love,
Nancy