Hello To All,
In meeting with Dr. Rohr, Matthew's doctor, he is truly a pleasure to speak with.  He is not only  brilliant in this incredibly complex field, but he is extremely patient, understanding, and accepting of my many questions.  He is also a gentleman.  He first explained to me the complexity of Matthew's health and complications, and that we still need to take things one hour at a time.  It is a great challenge to treat so many complications and keep everything else running smoothly.  The cause of the daily increasing fever (for the past 7 days) was determined and treatment started this morning.  The doctor is going to continue to keep Matthew heavily sedated to give his body a desperately needed rest, in hopes that after another few days they will try to start waking him up again and with the grace of God this time around will be much easier for Matthew.  The past two days were an additional great toll on his body.  A big problem is that the ketamine takes a long time to leave a person's body.
In visiting with Matthew today, because of all the above, he was much more peaceful today and has become more stabilized (now that his body is not fighting as hard).
Dan and I thought that tonight, for a change of pace, we would go out to eat at the famous Pizza Per Tutti.  Steve, you absolutely leave a positive lasting impression everywhere you go.  The waitress, Agnus, instantly remembered you and said to say hi to Steve and she thinks of you all often when people order meal 231.  She said to say hi and that it was always a pleasure to wait on you and asked to send her best, and that she was so happy that your daughter remains pain free.  And as usual, our German friend was right on target with directions.  Dan ordered the lasagna and I had the spinach raviolis, both of which were quite a treat.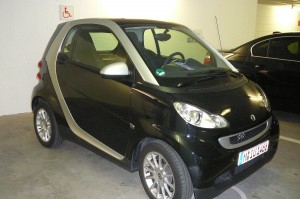 Steve, you are absoltue right.  I wish that I could put this car in my luggage and take it home.  45 miles to the gallon and u-turns are a dream to make (I could only imagine).  Once again, both you and our German friend have guided us on a great path.  Daniel's request to bring one back would be a convertible version (which they do make) and I told him that if you took off the roof of the car, it could fit in our luggage without a problem.  The car does not have power steering, which is why you can go so fast on the highway and feel that you still have full control.  We have saved huge money by renting this car rather than paying for taxis.  Thanks guys.
Melissa continues to do very well and has been on a regular floor since Sunday.  God Bless her.  I am so very happy for her.  She is a beautiful person.
We miss you all and thanks to everyone back home for their dedication and loyalty in continuing to be so supportive of Matthew.  We heard that the pasta dinner was a great success and lots of fun. Thank you Fr. Grant and Rose you have been a so supportive of all that is happening for Matthew and so very patient with the many requests in planning the pasta dinner. God Bless you both! The team of North Providence High School, both faculty and students, and amongst so many others, have come together and put on a first class event for Matthew.  The outstanding dedication and devotion to see Matthew through to the end, and always with smiles on your faces… we cannot adequately find the words to express the love and thanks in our hearts to all of you who put on and attended this event. Also, a very special thank you to WLNE 6 News for their continuous coverage of Matthew's story! They are truly a team of professionals that have a strong level of compassion for what is happening in the community!!!
God Bless You Always!
Forever Grateful,
Love,
Nancy