Hello To All,
Matthew needs everyone to storm heaven with prayers tonight.  Tomorrow the doctors are hoping to try to take him off the respirator and today they started, ever so slowly (which is a good thing), to reduce the sedation medications.  So tomorrow is a very big day for Matthew.  With the grace of God and everyone continuing to pray for him, he will be able to breathe on his own, as he still deals with asthma and some pneumonia.  Again, like with everything else, they are taking things one hour at a time.  For most of our visit with Matthew, he remained sedated.  The doctors are continuing to work on his many complications, but dealing with his lungs and the withdrawal process on the top of their list.
Heartfelt thanks to Jed of mix 102 radio for his tremendous out-pouring of support to Matthew, who has been hourly dedicating a song to Matthew and will continue to do so until he comes home.  That in itself speaks of what an incredible radio station it is, to reach out and be such a source of strength at this time.
It continues to be in high 90s here.  There is no air conditioning in the hospital or hotel, but there is in our little SMART car, God Bless it.  And with 45 miles to the gallon, we took the scenic route back to the hotel.  So we went to the park to get hot dogs for supper, and in asking for a hot dog, this is what we got: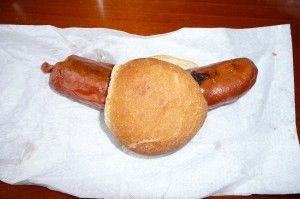 And the only thing I say is: "Where is the bun?"  I did not know what we were eating, but it tasted good.
So once again we turn to all of you to continue praying hard for Matthew, because all prayers are heard and tomorrow will be a big turning point for him.
We saw Melissa today and she looks outstanding.  She is doing so very well and will not be in the hospital too much longer.  Our hearts are full of joy for her and her family.
God Bless You All Always!  We love and miss you all!
Forever Grateful,
Love,
Nancy