Hello to all,
Upon speaking with Dr. Rohr today and discussing many problems and concerns, he told me that this morning he started Matthew on two new medications to hopefully stop the tremors and bring his vital signs within normal range.  Daniel and I felt encouraged by Dr. Rohr saying that that he hopes that by next week Matthew will "be on the other side of the mountain."  With all of our hearts we pray that Matthew's body is more accepting of these two new drugs than the previous ones.  Matthew slept for most of our visit and five minutes before visiting hours were over, he woke up and you could tell by the look on his face that he couldn't understand why we were leaving.  As we always do, we tried to reassure him that he was safe and all that was happening with him… and that we needed to leave because the nurses needed to take care of him.  Although it happens every day, leaving him like this will never get any easier for Dan or I.
It has been raining all day (on and off, it has been a rainy week) and when I came back to the hotel and sat to reflect on my conversation with Dr. Rohr, with so many worries and concerns, I happened to look out the door over-looking the Gardens.  Although it was still raining, I saw in the distance a beautiful rainbow that stretched across the sky that probably lasted all of thirty seconds.  While making a wish on it for Matthew, I quickly reached for the camera next to me and was able to capture this picture below that I wanted to share with you.  It no sooner came, I took the picture, and it went away… because I had looked out the door minutes earlier and it wasn't there.  I guess God knew our hearts needed reassurance at this point that we are not alone… that He is with us everyday.  I had once read a little verse that said:  "Sometimes when its cloudy, it looks like the sun is not there… but it really is.  And in times of sadness, it seems like God is not there, but He is."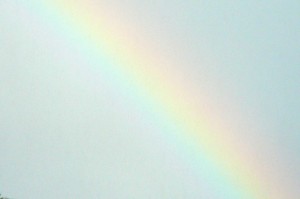 Although it is raining here, I am sure that regardless of the weather in New Jersey, there is sunshine in the Connor household!  Melissa emailed me that she is home safe, sound, and totally pain free!  What a incredibly joyous day! it was a long time coming!  Thank You God for this beautiful blessing for Melissa and her family!  We miss her and Chris greatly!
We love and miss you all.  May God Bless you all always!
Forever Grateful,
Love,
Nancy