Hello to all,
If you thought that yesterday's blog was good news, then you are going to love today's.  Today there was some more good news.  This afternoon, after 33 days on ICU, Matthew very happily waves good-bye to that floor.  Although Matthew is happy to leave that floor, he was very thankful that the nurses he had watched over him and took good care of him through very rocky days and nights.  We were able to spend most of the afternoon and early evening with Matthew.  The nurse suggested that it would be a good idea if I stayed with Matthew tonight… and Matthew was so pleased that I would be allowed to stay, as he was very coherent in his thoughts today.  So trying to cover all of my priorities, Dan and I got something to eat at Burger King and I am quickly blogging so that I can go back to the hospital and do what Moms do best… love their kids and be there for them. 
A good friend of Dan's sent this along with best wishes to all of us.  It was so beautiful that we thought we would share it with all of you.  Jessica, you truly have a golden heart yourself!  Thank you for brightening our day!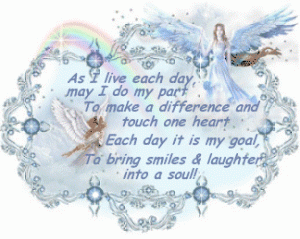 How fitting that Matthew made such amazing progress yesterday, on the Feast Day of the Assumption of the Blessed Mother, in whom Matthew (and all of us) are so dedicated to Her rosary, that she would shower Matthew with blessings.  What a beautiful way to begin Matthew's amazing turn-around in his condition.  His vital signs are stable and he is beginning to eat and drink small amounts.  Matthew has always been thankful for one of his greatest gifts from God, his mind.
We love and miss all of you.  May God Bless all of you always!
Forever Grateful,
Love,
Nancy