Hello to all,
The nurses were very kind and allowed my Mom to stay with Matthew again tonight as he requires a lot of help and the language barrier makes it very hard for him to tell the nurses what he needs… and for those of you who know my Mom… she will find a way to get what Matthew needs.
Since this was the first full day that Matthew was off the intensive care unit, my Mom and I were able to spend all day and most of the evening with him.  Although he is still very weak and has little energy, being there all day allowed us to share the beautiful cards that you have been sending him during the short periods where he feels up to reading them.  When we ever gave him the envelopes with the cards you sent to cheer him up with, he was so taken back… he is truly a very humble person.  My Mom and I watched him as he read the beautiful messages in the cards and it made Matthew smile and made him so happy.  For us, a smile to Matt's face was truly priceless.  He thanked God for blessing him with so many beautiful, kind, and caring people who keep him constantly in their thoughts and prayers.
All of you have been so devoted and faithful in supporting Matthew and I thought that I would share with you a picture of Matthew reading the beautiful and thoughtful cards that we have received at the hotel.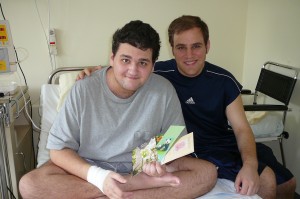 I hope that seeing Matthew smiling has brought a smile to your faces as well!
We love and miss you all.  May God Bless you all always!  We will truly remain forever grateful for all of your love, kindness, support, and prayers for Matthew and us as well.
Love,
Dan (Matt's brother)